Image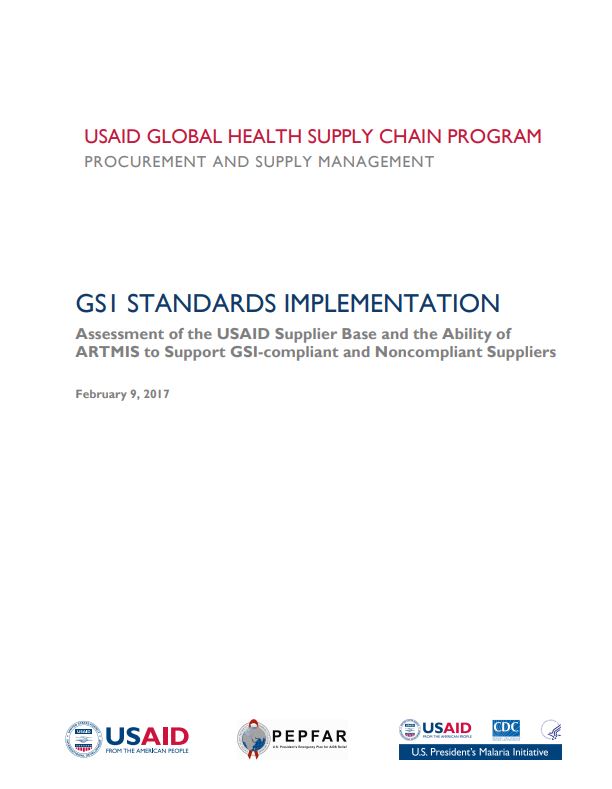 Authored on
February 5, 2017
Description
The GS1 Standards Implementation Project developed strategic recommendations for implementing and supporting GS1 Standards across USAID's global health supply chain. Primary objectives included ensuring that ARTMIS is designed properly to capture product information according to GS1 Standards, developing a strategy for implementing GS1 Standards with the USAID supplier base, and informing country-level logistics management information system (LMIS) tools on the USAID/GHSC-PSM GS1 implementation to help ensure data can continue down the chain to truly create end-to-end visibility.
Of the five reports prepared as part of this initiative, this document is Report 2, Assessment of the USAID Supplier Base and the Ability of ARTMIS to Support GS1-compliant and Noncompliant Suppliers. It includes:
• An analysis of USAID's supplier base and its compliance with GS1 standards
• A compliance roadmap depicting steps that noncompliant suppliers need to take to become GS1 compliant within a reasonable time frame
• Identification of associated risks with governance, data quality, reporting, and other identified areas of concern
• Risk mitigation strategies to address noncompliance
• A strategy to enable ARTMIS to capture and report on noncompliant and compliant suppliers.