Sub Title
PEPFAR supports a scale-up of HIV viral load testing through global, all inclusive, awards to Abbott, Hologic and Roche
Featured Media
Image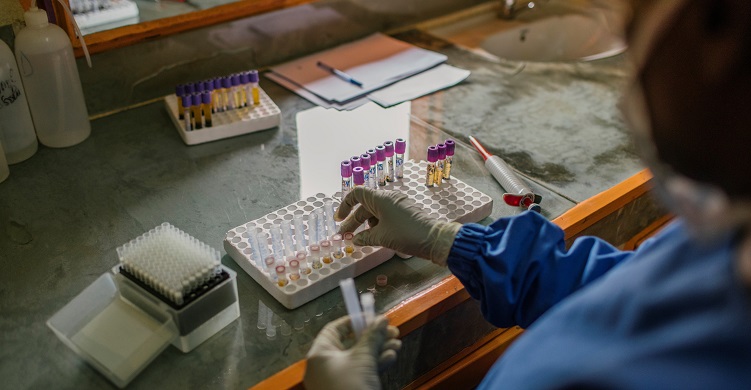 Topics:
Related Supply Chain Topics
Related Global Health Areas
Lead Paragraph/Summary
Global demand for HIV viral load (VL) and early infant diagnosis (EID) testing has risen rapidly as countries scale up their testing programs to meet global 95-95-95 goals – 95 percent of all people living with HIV tested by 2030, 95 percent on treatment, and 95 percent virally suppressed. As countries have expanded testing programs, they have faced challenges in terms of service provision, data visibility, supply reliability, performance management, commodity costs, and overall system costs. To address these challenges, the United States Agency for International Development (USAID) – through its USAID Global Health Supply Chain program – Procurement and Supply Management (GHSC-PSM) project – issued a global request for proposals for VL/EID reagents, consumables, and services on behalf of the U.S. President's Emergency Plan for AIDS Relief (PEPFAR).
Through this request for proposals (RFP), PEPFAR (S/GAC, USAID, CDC, DoD) aimed to achieve four strategic goals: improve and standardize service levels across countries; reduce pricing by leveraging all global PEPFAR volumes; enable the shift to an all inclusive reagent rental model for countries not yet on such a model; and improve market competition.
PEPFAR pooled volumes across all countries to incentivize suppliers by offering volume commitments in exchange for reduced pricing. The RFP covered about $130 million in annual VL and EID spend, including all reagents and consumables procured for PEPFAR-supported countries, for more than 10 million tests a year.
The RFP also required service commitments from suppliers in six countries that comprise more than 70 percent of PEPFAR VL/EID testing volume: Kenya, Mozambique, Nigeria, Tanzania, Uganda, and Zambia. The RFP established ten rigorous key performance indicators that all suppliers had to meet in terms of maintenance, including machine uptime, error rates, average repair time, and on-time, in-full delivery, end-user training and laboratory instrument connectivity and reporting.
Final awards were issued to Abbott, Hologic and Roche in October 2019. PEPFAR's global volume commitments to the suppliers determined the single global reagents and consumables price, whereas country-specific commitments determined service pricing in the six largest procuring countries. This has enabled GHSC-PSM to negotiate lower prices for these commodities and services across PEPFAR-supported countries.
It is expected that through these awards the total savings across all PEPFAR-supported countries will reach $20 million or more annually. Through September 15, 2020, GHSC-PSM has saved $16.8 million on VL/EID orders placed to date under the new awards. These savings, which corresponds to approximately 1,440,000 patient tests, can be reinvested into increasing VL/EID testing or other related initiatives.
Beyond cost savings, the new awards provide the framework for transforming how PEPFAR and other international donors work with countries to manage their VL/EID testing programs. These innovations will further improve countries' and donors understanding of testing program performance and enhance the effective use of resources to meet global testing goals.
The expanded partnership between PEPFAR and the global suppliers will bring additional operational and strategic benefits. Firstly, it will improve collection and utilization of instrument data that will significantly enhance forecasting and future sourcing efforts through the provision of near real time consumption information. Secondly, future automated reporting from instruments will improve operational data availability for network optimization efforts, and facilitate country decisions about new equipment placement. Finally, it will contribute to additional cost savings through network management strategies and continued market competition.