The starting point for any key stakeholder management plan is stakeholder mapping. This step is critical to identify stakeholders; categorize them based on their interests, power to influence, and priorities as well as to understand their expectations about communication. Stakeholder mapping helps organizations to strategize on the best approach to reach various players.
In late 2019, GHSC-TA worked with the EDP for a period of six months to develop a database to allow easy access to a list of the AMD's key stakeholders. Previously, the team relied on different lists of contact details to manage its stakeholders. The EDP Stakeholder Database (seen below) was developed as a centralized stakeholder master data repository to capture complete stakeholder data (names, contact details, and other relevant information related to their areas of interest and relevance to the work of the EDP).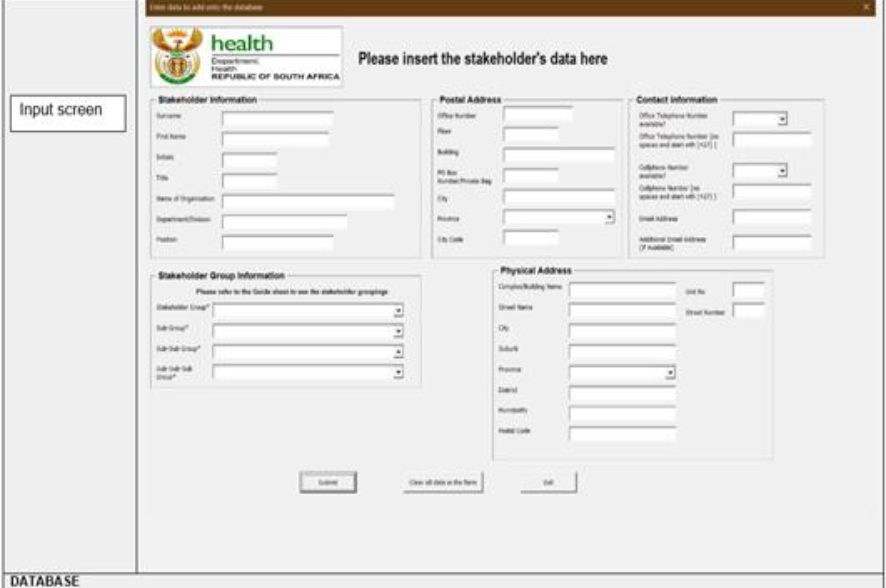 The EDP Stakeholder Database was also developed to improve communication with relevant stakeholders who affect or are affected by the EDP, and to facilitate the implementation of policies and procedures developed at a national level. The tool has two main functions: to allow the EDP to capture new stakeholder information and make it possible to search for stakeholders within the database.
The database has three key components. First, a user guide that helps users understand how to utilize the tool. Second, stakeholder groupings allowing users to place stakeholders into various categories. Third, a dashboard view that lets users search for the details of any member of the stakeholder community.
The EDP Stakeholder Database categorizes stakeholders into 18 main groups with 64 subgroups including committees. The groupings can be used when entering new or searching stakeholder information in the database. These groupings can also be used for stakeholder mapping to support various projects and initiatives undertaken by EDP. When assigning stakeholders to groups, the nature of stakeholders involvement with the EDP and type and content of communication required are considered to ensure stakeholders are identified and targeted at the right levels.
To date, the EDP Stakeholder Database includes stakeholders relevant to the work of the EDP from all nine provinces across South Africa. It has helped the EDP to manage their stakeholders and created a place for them to access information needed at the touch of a button.
Managing stakeholders is an important element for successful implementation and management of projects. The EDP Stakeholder Database, as an effective and easily accessible repository of stakeholders, is a first step to ensuring successful stakeholder mapping within the AMD. It is anticipated that this database will be expanded to cover all AMD programs.