Featured Media
Image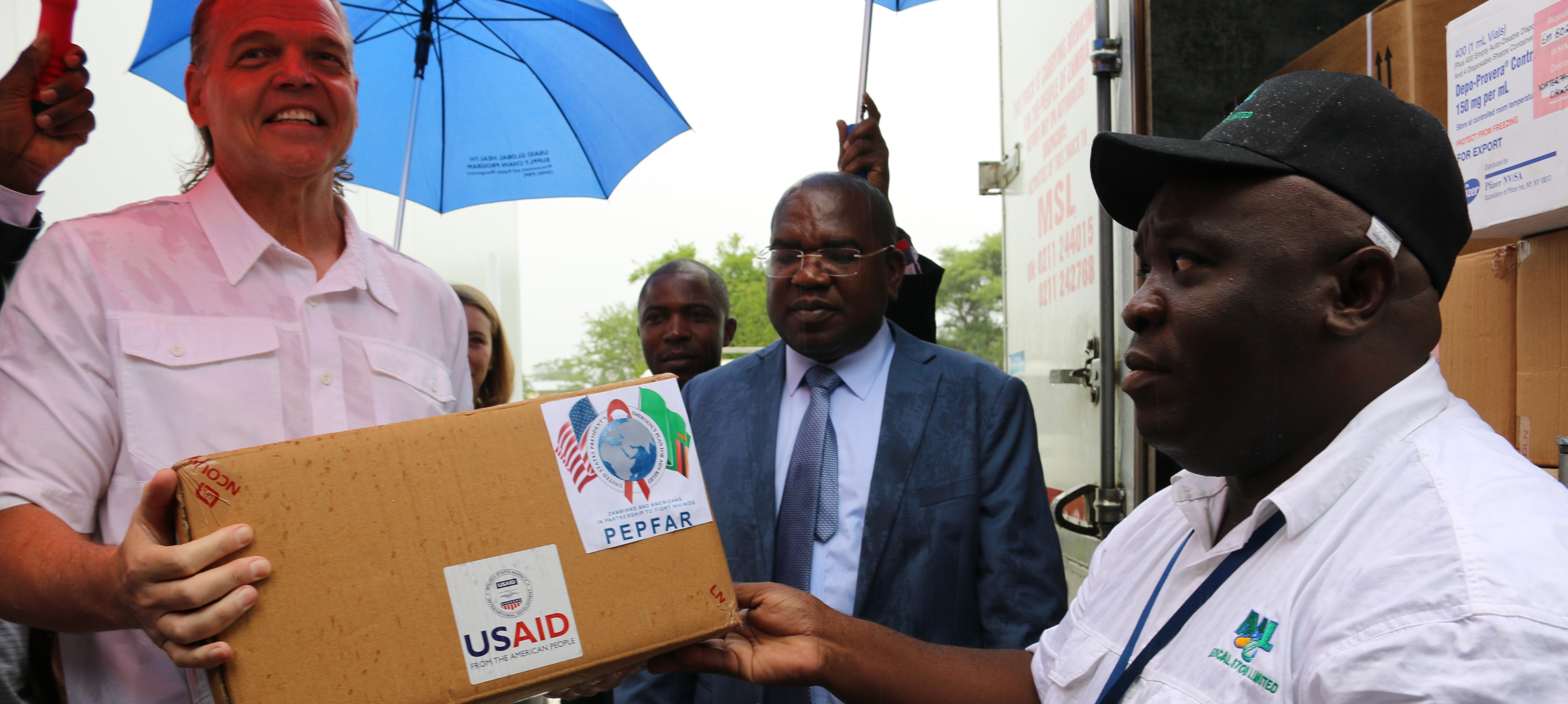 Lead Paragraph/Summary
For many years, inadequate storage capacity in the Zambian public health supply chain hampered efforts to improve access to quality essential medicines and medical supplies.
But the picture is changing with the continued commitment of the U.S. President's Emergency Plan for AIDS Relief (PEPFAR) to help Zambia achieve HIV epidemic control by 2020 and increase access to quality healthcare for its people.
As part of PEPFAR's support, the USAID Global Health Supply Chain Program-Procurement and Supply Management (GHSC-PSM) project has been working to strengthen the ability of Zambia's public health supply chain to ensure uninterrupted supplies of health commodities throughout the country.
On December 17, the U.S. ambassador to Zambia, Daniel L. Foote, handed over to the Zambian government, 10 pre-fabricated storage units valued at $881,792. The units were installed with complete backup solar power systems, lighting, air conditioning, shelving, office furniture, security lighting, and secured doors and windows. They were strategically placed in districts to reach underserved populations and to optimize the distribution of health commodities to all of Zambia's 10 provinces.
Ambassador Foote highlighted the direct link between health supply chains and improved HIV testing, prevention and treatment.
"This investment of pre-fabricated storage units exemplifies the U.S. government's contributions to support Zambia's health sector," he added.
The Minister of Health, Dr. Chitalu Chilufya received the pre-fabricated storage units on behalf of the Zambian government. He thanked the American people and the U.S. government for their support in promoting safe, efficacious medicines to the Zambian people, while eliminating last mile inefficiencies and pushing the program to ensure access to medicines for all.
With more than 900,000 clients on antiretroviral therapy, PEPFAR has helped Zambians live healthier and more productive lives and enabled more people to access treatment without disruption.