Featured Media
Image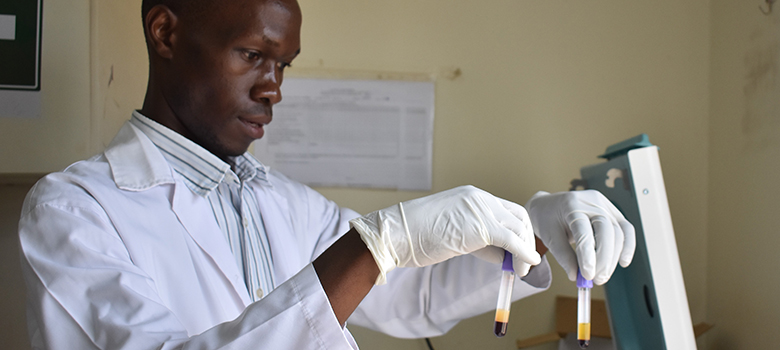 Topics:
Related Supply Chain Topics
Related Global Health Areas
Lead Paragraph/Summary
An HIV diagnosis is no longer a death sentence. With a continuous supply of antiretrovirals (ARVs), HIV-positive individuals can live long, healthy lives and reduce the amount of HIV in their body — which also reduces the risk of transmission to another person. Along with regular ARV use, regular testing of the "viral load" in a person's body is required to make sure treatment is still effective.
Yet, fewer than 50 percent of Africans on HIV treatment currently have access to viral load testing.
On behalf of the U.S. President's Emergency Plan for AIDS Relief (PEPFAR), the USAID Global Health Supply Chain Program-Procurement and Supply Management (GHSC-PSM) project has been working behind the scenes with manufacturers, ministries of health, and donors to change that. The project has pioneered a new, all-inclusive approach to viral load testing and has made valuable contributions to the global health community's efforts to scale-up viral load testing for all.
Challenges and Solutions to Scale-up
In 2014 the World Health Organization recommended viral load testing as the gold standard for monitoring ARV treatment. However, low and middle-income countries have faced challenges in scaling-up access to viral load testing. The high-tech machines used to run the viral load tests are a significant upfront expense and require regular service and maintenance. The tests and supplies needed to run the machines may expire or not be available due to supply chain issues. Pricing for the tests and supplies can also fluctuate. As a result, many viral load testing machines have sat unused.
To address these challenges, GHSC-PSM is using an all-inclusive, "reagent rental" approach that will simplify and increase access to viral load testing services — all toward the goals of controlling the AIDS epidemic and helping people with HIV live healthier lives through affordable viral load testing. With the reagent rental approach, one manufacturer provides all the necessary supplies, tests, machinery, training, and maintenance then charges a set amount per viral load test. This results in a lower and predictable price per test, easier budgeting, higher supplier performance, greater coordination, and a sharing of risk between manufacturers and stakeholders.
In Mozambique, GHSC-PSM has been using the reagent rental approach for more than a year. Based on a 2017 report, instruments under the Mozambique reagent rental agreements have 34 percent less down time compared to those under traditional, standalone service contracts.
Further, GHSC-PSM is leveraging our broad global footprint procuring HIV/AIDS commodities for 27 different countries to pursue competitive global long-term agreements with all major manufacturers of viral load tests. This will ensure consistency in the products provided and essential quality, delivery, and warranty terms. It also allows GHSC-PSM beneficiary countries to purchase products through a streamlined process. As of August 2018, two global suppliers have signed such an agreement with GHSC-PSM.
Sharing Our Experience for Global Progress
On July 25, 2018, the Clinton Health Access Initiative (CHAI) and partners announced a breakthrough agreement with the medical technology company Hologic to provide access to their Panther testing system at an all-inclusive price of $12 per viral load test — a dramatically lower price than was previously available in many countries.
With significant experience in procuring and delivering viral load testing-related commodities, GHSC-PSM was able to act as a key advisor in shaping the global agreement with Hologic. Specifically, GHSC-PSM shared and helped refine contract terms and key performance indicators— such as days of downtime, response to service issues, and error rates — to continuously monitor and improve manufacturer performance.
Not only does GHSC-PSM procure and deliver viral load-testing related commodities, the project closely collaborates with ministries of health and other stakeholders to improve HIV/AIDS commodity supply chain management in 30 countries. GHSC-PSM used this on-the-ground perspective to provide a real sense of the needs and challenges of viral load scale-up and make sure the agreement was realistic.
The Road to End AIDS Requires Viral Load Testing Scale-up
To end the AIDS epidemic, millions of people will need lifelong, effective ARV treatment — monitored by regular viral load testing. To get there will require innovative partnerships and collaboration between stakeholders to make viral load testing more accessible. For its part, GHSC-PSM will continue its work to enable viral load testing in low- and middle-income countries through more efficient and cost effective contracting.