GHSC-PSM's groundbreaking drone project took flight in June 2019 and is now making regular bi-directional deliveries to and from eight health facilities (see Milestones). The drone lands autonomously with local health staff present to collect medicines and test results and load lab samples for the return flight.
Prior to implementation of the drone project, the roundtrip transport of lab samples and results to the eight health facilities took up to eight weeks, delaying diagnosis and treatment. Even then, close to half of the sample test results never made it back to the health facilities because either the samples or the results were lost in transit.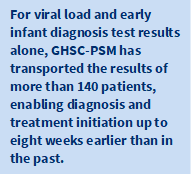 The drone project is achieving faster and more reliable delivery of patient diagnostic samples and results, including for viral load, early infant diagnosis (EID) and tuberculosis (TB). With faster results, HIV-positive patients can begin antiretroviral therapy sooner, which increases the efficacy of the treatment regimen. In other cases, VL test results help doctors confirm whether ongoing treatment is working or if it should be adjusted. Timely availability of test results also reduces the spread of infection among remote, underserved populations because patients who know their status can seek treatment or avoid risky behaviors. Since the program launched, the drones have covered 4,291 miles during 184 flights, carrying medicines, medical supplies, lab samples and test results to and from eight different locations (one battery-swapping station, one hub of operations, and six recipient facilities). The GHSC-PSM drone project in Malawi is pioneering in that it encompasses the following:
Extends the outer reaches of the formal supply chain by reliably collecting from, and delivering to, previously unserved or underserved last mile health facilities.
Successfully integrates the use of drones into the existing supply chain and distribution channels rather than operating as a parallel supply chain. This builds a stronger case for assimilation of drones into public health supply chains.
Optimizes the use of drones by dropping off samples at destination and picking up test results for return flight to the point of origin.
Demonstrates the relevance of sustained use of drones over several months. Advancing beyond previous drone pilot programs that offered limited numbers of test flights, data from ongoing, regular use will help stakeholders assess the operational and health impact, as well as costs and benefits of integrating bi-directional use of drones into supply chains.
Demonstrates the sustainability of using drones for public health programs. GHSC-PSM successfully trained local health facility staff to use and receive drones for health commodity transportation. On Chizumulu Island (see milestones), for the first time in a sustained cargo drone for development project, health facility staff are handling communications procedures, security of the landing area, loading/unloading of cargo, and basic drone operations. Bi-directional use of drones has been shown to be a viable option in remote locations where only health facility staff are available to handle the drones.
Builds local capacity by hiring and training locals to be part of the flight operations team. Five of the seven members of the flight staff are Malawian. This adds to the self-sufficiency of the country to carry out future work with drones and helps build a new cohort of drone professionals to help shape this flourishing sector.
Establishes need-responsive channels of communications between stakeholders to request health deliveries, confirm quantities of medicines available and convey arrival times to ensure that a health professional can safely receive the delivered goods. This is particularly important in the case of laboratory samples, where specific handling procedures may be required.
Advances transparent information sharing for local and global actors interested in developing sustainable drone programs to improve regular and emergency distribution of health supplies.
Ultimately, this project will contribute a body of knowledge on the health impacts, costs and operational considerations of UAV programs for consideration by national and global actors. Already, drones have proven to be a valuable innovation that can save lives when deployed strategically in the existing HIV/AIDS and broader health supply chain.