Featured Media
Image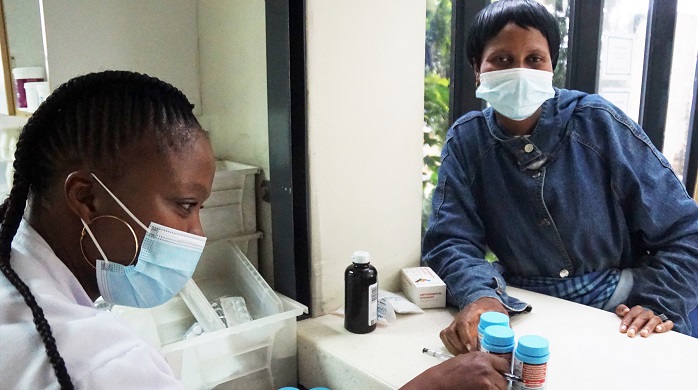 Topics:
Related Supply Chain Topics
Related Global Health Areas
Lead Paragraph/Summary
Ensuring an uninterrupted supply of life-saving medicines is essential for people living with HIV/AIDs. Antiretroviral treatments (ART) are among the most effective methods, according to the World Health Organization, for both treating and preventing infections. But it's not just ensuring that pharmacies are stocked to help curb this epidemic; it's also critical to remove the barriers for patients to receive their medicines. All too often, a trip to the pharmacy may be challenging for a patient—the closest pharmacy may be several kilometers away and pharmacies may have long lines.
That's why reducing the number of trips to the pharmacy for patients is considered an essential strategy to curb the HIV/AIDS pandemic. Multi-month dispensing (MMD), where patients can pick up a multi-month supply of medicine in one trip, is a critical approach to reducing the burden on patients like in Lesotho.
"As I am a domestic worker outside of the country," one patient explained, "and I come home once in a while during the holidays, MMD has helped me as I do not need to ask my employer to visit the health facility for my monthly refills. It also helped me a lot during lockdown as there was no transport, and reduced waiting time at health facilities as I only visit for check-ups."
Even though Lesotho has a small population of just over 2 million, it has the second-highest rate of HIV in the world. In 2016, Lesotho became the first nation to adopt a test and treat approach to HIV, where ART was offered to any patient who tested positive, increasing ART treatments. Additionally, the government of Lesotho released guidance on nationwide MMD of antiretrovirals (ARVs) for all stable people living with HIV, expanding on a prior policy used only for migrant workers.
Efforts to scale up MMD initially faced limited availability of ART in the quantities required to maintain the minimum stock levels, limited training of supply chain staff and a lack of tools including stock cards and dispensary tally sheets with months-of-supply dispensing selections to track and report MMD uptake. Recent data analysis from the National Drug Supply Organization (NDSO) stock status and data triangulation with ART program reports confirmed that only a few ART clients received MMD for their ARVs.
In January 2020, the USAID Global Health Supply Chain Program-Procurement and Supply Management (GHSC-PSM) project, in collaboration with USAID clinical partners, provided support to the Ministry of Health (MOH) to fast-track the implementation of innovative approaches to scale up MMD in all health facilities. The project began by updating the MOH's reporting tools to track MMD and provided ARV tally sheets to all 228 ART accredited health facilities. GHSC-PSM then offered on-the-job training for service delivery point staff using these new tools across all 228 ART sites. At the same time, GHSC-PSM worked with the MOH to adjust resupply quantities of single-month bottles in an electronic logistics management information (eLMIS) system to preposition stock for increased MMD consumption.
COVID-19 became a global pandemic just two months after GHSC-PSM began this work. Efforts to scale up MMD were expedited in response to COVID-19 and concerns of overcrowding at health facilities. Between October 2020 and March 2021, service delivery points dispensed more than 500,000 90-count bottles of TLD, helping to reduce the need for patients to visit health facilities to pick up medications, and limiting person-to-person contact, a critical measure during the pandemic.
During quantification exercises in October 2020, GHSC-PSM recommended the scale-up of 6-month MMD from 3-month MMD for all stable people living with HIV. Most trainings on reporting into the electronic Reporting and Requesting (RnR) tool – a tool that uses electronic data to manage Lesotho's health commodity supply chain - took place remotely. GHSC-PSM then successfully supported sites through regular group messaging using virtual means such as WhatsApp.
GHSC-PSM worked with the MOH to preposition first- and second-line adult and pediatric ARVs at the central medical store to anticipate the transition of the first cohort of patients. Coupled with advocacy support on behalf of the Supply Chain Management Directorate and MOH to the Ministry of Finance for procurement of enough 90-tablet medicine bottles to scale up MMD once data on eligible patients is submitted.
The 90-tablet bottles additionally helped improve site-level storage since more pills are in one bottle, which reduces the storage space needed. While this approach in line with PEPFAR guidelines, it also has the ripple effect of reducing overcrowding at health facilities by decreasing in-person visits and limited any potential exposures to COVID-19.
Following the procurement of 90-tablet bottles and advocacy work alongside government ministries and the Global Fund, the MOH provided three months' worth of MMD for all stable ART clients and six months for the Basotho migrant population that work in South Africa. The MOH actively builds up stock to expand to six months of MMD for stable domestic patients currently on three months MMD. Future scale-up of MMD also includes PLHIV transitioning to TLD from other regimens in line with ARV optimization plans in Lesotho.
"MMD has improved customer satisfaction and the relationship between patients and dispensers," a pharmacy technician explained, "as patients are no longer coming to the facility monthly, and it reduced their waiting time. This allows us to serve them quickly."
As Lesotho works to move closer to the UNAIDS 95-95-95 targets, GHSC-PSM continues to work closely with the MOH's Supply Chain Management Directorate and Disease Control Directorate to not only front-load funding for enough ARVs for MMD, but to also incorporate policies and guidelines on MMD throughout the country. This will help ensure people living with HIV continue to receive the treatment they need to live healthier lives and at their convenience.