Sub Title
Improvements In Supply Management Increase Availability Of HIV Rapid Test Kits To 98%
Featured Media
Image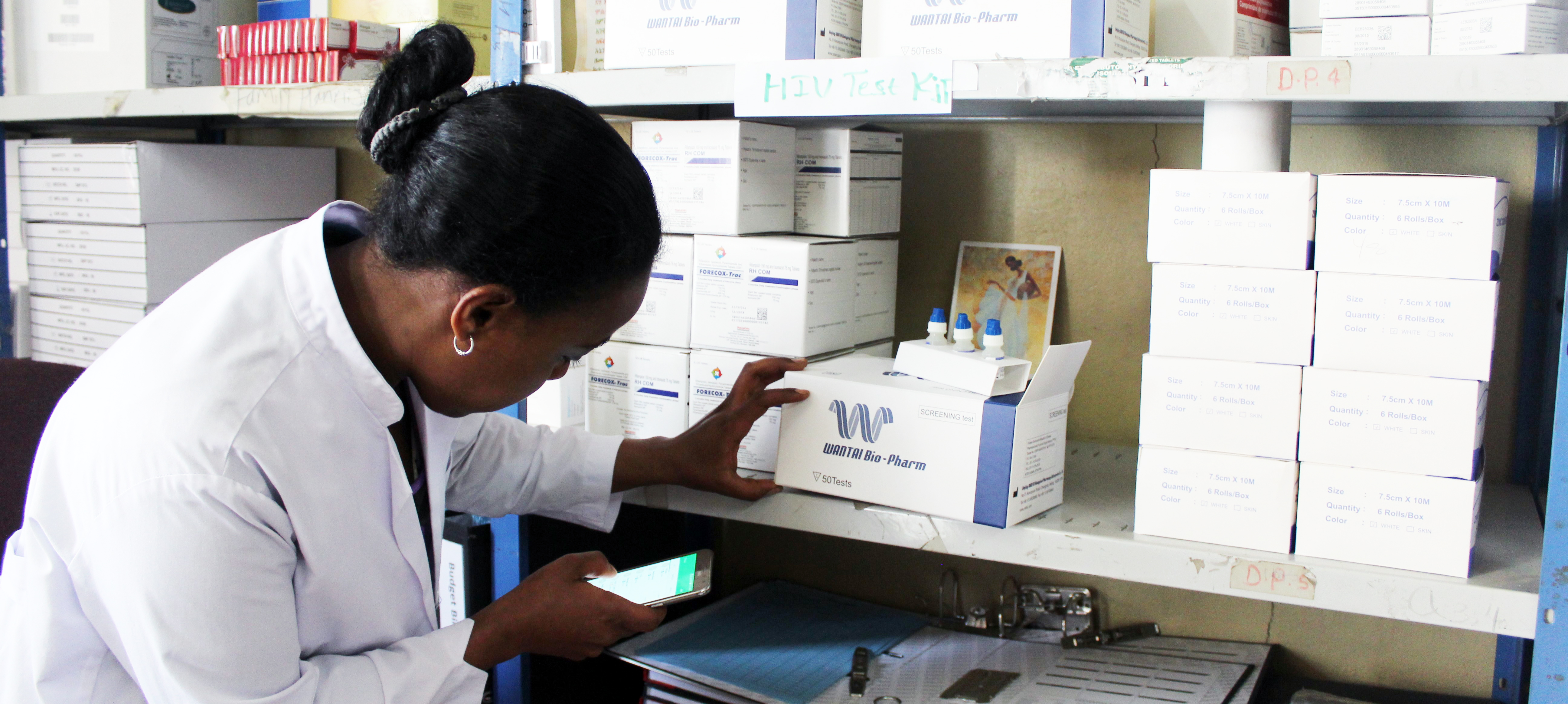 Topics:
Related Supply Chain Topics
Related Global Health Areas
Lead Paragraph/Summary
As part of its overall HIV/AIDS strategy, the Ethiopian government is aiming to ensure that 90 percent of all people living with HIV in Ethiopia know their HIV status by 2020. Currently, an estimated 79 percent of Ethiopians living with HIV know their status.
The effort to achieve the 90 percent goal, through intensified and targeted HIV testing among high-risk population groups, is impeded by an inadequate HIV/AIDS commodity distribution system and shortages of commodities, including HIV rapid test kits (RTKs).
The Pharmaceuticals Fund and Supply Agency (PFSA) – the state-run agency responsible for managing the supply chain of health commodities throughout the country – regularly procures and distributes RTKs to over 3,500 health facilities. One of these health facilities is Kazanchis Health Center in Addis Ababa, Ethiopia's capital. Kazanchis Health Center's catchment area covers about 73,000 people, and up to 350 people visit the center every day to get healthcare. The center is one of the facilities found within the U.S. President's Emergency Plan for AIDS Relief's (PEPFAR's) 20 priority towns identified to be high risk areas for HIV transmission.
Seblewengel Welde is a pharmacy store manager at the health center and is responsible for storing and internally distributing RTKs to the delivery, voluntary counseling and testing, emergency and outpatient departments. However, the previous internal distribution system made it difficult to track RTK utilization, forecast demand, or plan resupply in the center. As a result, RTK supply was unable to meet growing demand at the center.
To address these gaps, the USAID Global Health Supply Chain Program-Procurement and Supply Management (GHSC-PSM) project has been providing technical assistance and systems strengthening support to more than 450 health facilities throughout the country, including Kazanchis Health Center.
Through coaching, mentoring and training, GHSC-PSM worked with health facility staff to implement an operational manual for management of RTKs, customize reporting and requisition forms and train staff on standard operating procedures and use of the revised requisition forms. The project also conducted consultative workshops on RTK management. "We are now managing the RTKs in a much more efficient way, thanks to the trainings and support by GHSC-PSM," says Seblewengel. "We now have a better system which helps us to internally distribute the RTKs to the different departments and continuously monitor their utilization so that we can forecast demand and plan next supplies." Seblewengel also noted that wastage is now minimal.
One notable improvement at the center was the use of interactive voice response (an innovative mobile technology) to track RTK stock-on-hand. "We just call a four-digit number on our mobile phones and interactively update the RTK stock-on-hand information in the central database," says Seblewengel. PFSA then uses the information to calculate resupply of RTKs for the center. GHSC-PSM provided one-on-one coaching to Seblewengel on the use of the interactive voice response (IVR). Through these initiatives, GHSC-PSM's support to the health facility significantly improved supply management and availability of RTKs at the center.
GHSC-PSM, in collaboration with USAID's AIDSFree project, implemented the RTK stock-on-hand tracking with IVR in more than 320 health facilities across the country. GHSC-PSM also conducted four rounds of RTK supply management assessments covering six regional states, including Addis Ababa, to identify gaps in the RTK supply management system and provide practical solutions. Assessment findings informed decisions to provide similar support to over 450 health facilities throughout the country. GHSC-PSM's technical assistance for selected health facilities in PEPFAR's 20 priority hotspot towns has allowed public health facilities to achieve 98 percent availability of RTKs, compared to 88 percent before. This improved availability of RTKs in targeted communities gives Ethiopia a chance of reaching its 2020 HIV testing goal.