Featured Media
Image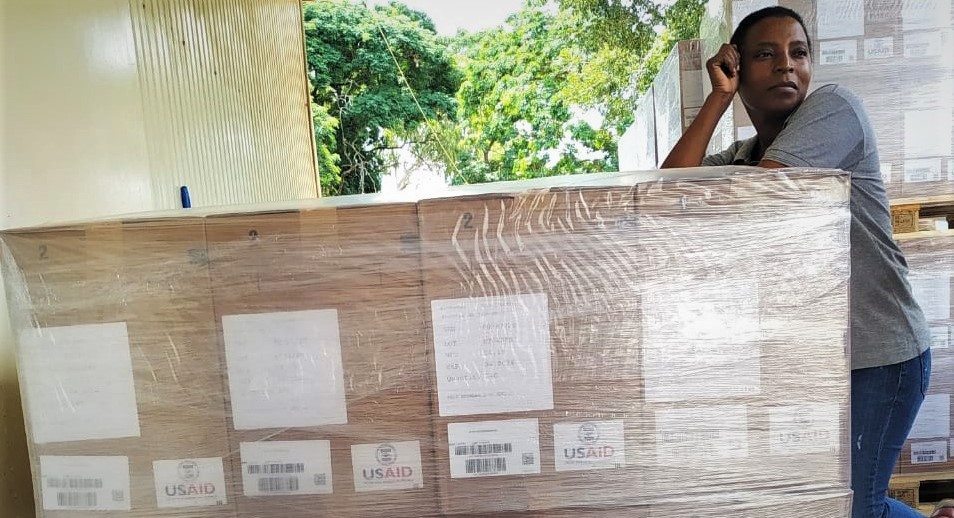 Topics:
Related Supply Chain Topics
Related Global Health Areas
Lead Paragraph/Summary
As in many countries, Angola's Ministry of Health has managed its public health supply chain within separate, parallel departmental programs. The siloed approach has led to numerous missed opportunities to consolidate and distribute commodities to more clients to achieve better health outcomes.
Recognizing this challenge, the Ministry of Health's Department of Reproductive Health (DSR) in 2019 began working with the USAID Global Health Supply Chain Program-Procurement and Supply Management (GHSC-PSM) project to collaborate with the National HIV/AIDS Institute (INLS) on minimizing sexually transmitted disease infection and expanding access to family planning commodities.
Previously, HIV/AIDS and family planning and reproductive health programs separately quantified, purchased, stored and distributed condoms (male and female) and lubricants to the target populations. GHSC-PSM helped develop a joint annual condoms quantification for both programs to use for decision making. The first quantification took place over May and June of 2020. The resulting report and recommendations will inform procurement and supply planning by the DSR and INLS and support their ongoing partnership.
"This advocacy allowed us to ensure all clients from all over the country will be able to access safe family planning," said Dr. Ana Leitão, advisor to the director of the National Department of Public Health.
The family planning and reproductive health and HIV/AIDS teams recommended consolidation of condom distribution planning and delivery to health facilities. In a series of discussions, advocacy for commodity consolidation extended to other partners, including the World Bank, the major funder of family planning commodities in Angola. The quantification team drafted a collaboration concept note to support approval processes, and the World Bank approved it in May.
Following the GHSC-PSM's assistance in developing a joint quantification exercise, the DSR and INLS have since included World Bank-funded condoms in consolidated distribution planning and delivery to facilities in all 18 of Angola's provinces. Previously, the World Bank only distributed FP/RH commodities to 10 provinces. GHSC-PSM supports distribution planning and monitoring of deliveries whenever products arrive in the country.
These coordinated efforts aim to increase availability of condoms for wider coverage of the population to more efficiently control the spread of sexually transmitted diseases and provide greater access to family planning commodities. In alignment with USAID and the President's Emergency Plan for AIDS Relief strategy, GHSC-PSM is continuing to identify opportunities for synergies between HIV/AIDS and family planning and reproductive health programs in other countries.
In partnership with the Government of Angola, USAID and GHSC-PSM supported the procurement and distribution of approximately $213,000 worth of family planning and reproductive health products in Angola in between September 2019 and March 2020. The contraceptives, when combined with proper counseling and correct use, are estimated to help prevent: 44,700 unintended pregnancies, 14,800 abortions, and 100 maternal and 1,100 child deaths. These investments in contraceptives have the potential of saving approximately $1.9 million in direct spending on healthcare—resources that can be reinvested in Angola's health system.