Featured Media
Image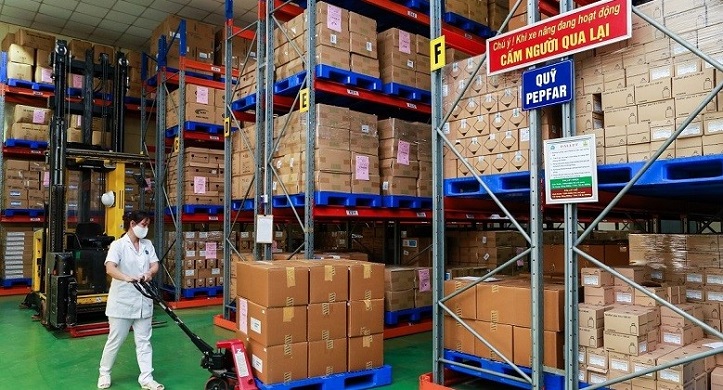 Topics:
Related Supply Chain Topics
Related Global Health Areas
Lead Paragraph/Summary
In 2016, the Prime Minister of Vietnam issued a decree to use Social Health Insurance (SHI) funds for centralized procurement and reimbursement of antiretrovirals (ARVs) for 106,000 people living with HIV instead of from donor programs.
For more than a decade, the bulk of Vietnam's HIV commodities were procured from international donors, such as the U.S. President's Emergency Plan for AIDS Relief (PEPFAR) and the Global Fund to Fight AIDS, Tuberculosis and Malaria (GFATM). Shifting from a donor-funded HIV/AIDS commodity procurement program to one managed by the Government of Vietnam marks an important milestone in the country-led supply chain.
Procurement Management: It takes more than funding
Freeing up funding for HIV commodities through the SHI represented a critical step to fund ARV procurements in Vietnam. However, the Government of Vietnam also needed significant training and capacity building to establish SHI as a functional and effective mechanism for procurement and supply management of ARVs. Since 2016, the USAID Global Health Supply Chain Program–Procurement and Supply Management (GHSC-PSM) project has worked with the Vietnamese Social Security and Ministry of Health partners to lay the foundation for a successful transition of these activities.
National Supply Planning 2019: GHSC-PSM assisted the Vietnam Administration for HIV/AIDS Control in outlining a national supply plan that included leading 63 provinces in measuring and forecasting their 2019 SHI ARV needs. The plan had a total of 48,000 people living with HIV covered by SHI. This formed the basis for the national 2019 SHI ARV procurement plan to inform the ARV bidding and procurement process.
Training and Capacity Building: Targeted workshops and trainings for Vietnamese procurement officials required building and retaining specific skills and knowledge to make this new procurement endeavor a success. GHSC-PSM project staff and senior Vietnamese procurement officials traveled to Thailand to receive on-the-ground training on a publicly-funded health insurance scheme. Participants also attended workshops that focused on building quantification skills and how to appropriately manage SHI-covered drugs. The creation of a SHI-specific procurement handbook served as an invaluable resource and guide to reference the intricacies of this type of large-scale public procurement.
Establishing pricing: GHSC-PSM, alongside the National Centralized Drug Procurement Centre (NCDPC)—which procures on behalf of SHI—and the Ministry of Health, created a planned price for the procurement of SHI ARV medicines and commodities. The bid package was valued at approximately $5.9 million, with a total of six bids submitted.
Securing a fair price: Through technical assistance provided by GHSC-PSM on negotiating with international medicine suppliers, the NCDPC saw a cost savings of more than $1 million. GHSC-PSM conducted comprehensive market research that revealed prices paid by various hospitals for similar medications. These prices then informed NCDPC's negotiation points with individual vendors. The combination of negotiation experience and the cost savings reinforced the enterprise's financial stability and bodes well for the Government of Vietnam to succeed in future procurements.
Lessons Learned
Building up to the first SHI procurement required significant capacity building, close coordination and detailed improvements throughout the supply chain. Given the procurement of ARVs was the largest one of its kind, continued and targeted follow up in regional health facilities to train and mentor staff on proper implementation and transition was necessary.
Furthermore, transferring procurement to the government for the first time produced unexpected delays by about three months. GHSC-PSM stepped in and provided the Government of Vietnam support coordinating a supply of ARVs from other sources to avoid treatment interruption.
Managing and working through bureaucratic and government regulations produced small deviations from the procurement timeline. Engaging directly and early with government counterparts while providing simultaneous training and guidance helped future procurements.
The two key takeaways for a more streamlined supply chain system were:
complete the procurement process as early as possible to ensure the supplier has enough lead time and
continuous coordination among in-country stakeholders can help speed up the process.
Results
In 2019 NCDPC successfully managed the competitive procurement for SHI ARVs. The Government of Vietnam secured purchase prices for medicines comparable to international donors, achieving a savings of $1.1 million, or approximately 19 percent of the overall bid package value.
As of 2019, the SHI fund is the primary sustainable funding source for the uninterrupted supply of ARVs to Vietnamese people living with HIV/AIDS.
With the rapid expansion of SHI ARVs, GHSC-PSM supported the Government of Vietnam to prepare for 2020 SHI ARV procurement and supply planning, covering more than 100,000 people living with HIV. The project decreased operations and closed at the end of 2020. GHSC-PSM ensured that the Government of Vietnam is well suited to provide life-saving HIV medications for the people of Vietnam.
View: Vietnam's Transition to a Country-Led Supply Chain