Featured Media
Image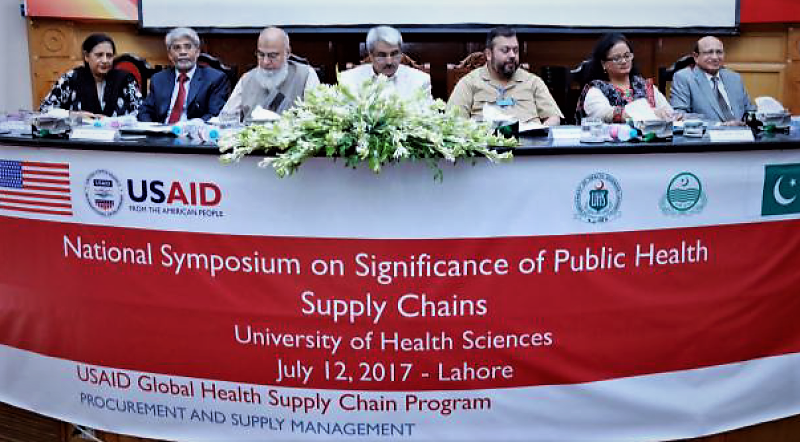 Topics:
Related Supply Chain Topics
Lead Paragraph/Summary
Public health supply chain management experts are necessary for a robust and sustainable global health supply chain. To standardize medical procurements in hospitals, improve supply chain management and increase the number of public sector supply chain professionals across Pakistan, the Global Health Supply Chain Program-Procurement and Supply Management project (GHSC-PSM) with the University of Health Sciences (UHS) in Lahore, launched the first university supply chain management course in Punjab. By developing the course, USAID and UHS sought to address the clear shortage of trained supply chain management professionals and by extension improve the public health supply chain system across Pakistan. Through this five-day, three-credit master's course, each new cohort will be equipped with skills in strategic planning, forecasting, procurement, warehousing and information management to improve the supply chain system, helping to build up a more transparent and cohesive public health supply chain workforce needed in Pakistan. A well-trained, more expansive supply chain workforce helps to mitigate concerns around loss incurred due to expired medicines as well as ensuring patients are better able to receive the medications needed, when they need them.
The course began in 2017. It evolved from collaboration between university staff, public sector officials, and the Government of Punjab. GHSC-PSM and the university developed the curriculum and the project provided UHS faculty with an orientation and training to facilitate it. The course has been incorporated into UHS' Masters of Health Management and Finance and Masters of Public Health curriculum and is being implemented by Department of Public Health.
Given the success of the course, GHSC-PSM and UHS collaborated on additional supply chain short certificate courses and master's and PhD degree courses, as well as expanded the course beyond Punjab province. This includes a five-day, national and international short certificate course in public health supply chain management for government and NGO officials working in supply chain management, warehousing and logistics to expand their skill set to build, manage, and improve the supply chain.
The fourth and most recent iteration of the course took place online from August 17-21, 2020 due to COVID-19 lockdowns and included additional support from i+solutions Netherlands, who assisted in the development of the interactive online learning platform benefitting 550 individuals from more than 30 countries. Feedback from participants showed that the course was relevant to their work, well-structured through the e-Learning Portal, and well facilitated by instructors and staff. The Secretary of Health for the Government of Khyber Pakhtunkhwa noted that "the supply chain management course has been the missing link towards assuring equitable access to good quality health commodities in the province." From the course survey, a resounding 100 percent of the 23 participants said they would recommend the course to others!
Additional information on the course, registration, curriculum, and notable alumni are available on the University of Health Sciences Lahore website.