Featured Media
Image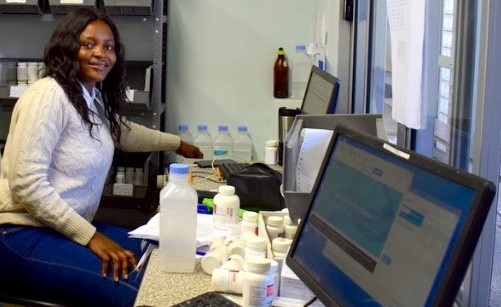 Topics:
Related Supply Chain Topics
Related Global Health Areas
Lead Paragraph/Summary
Often the real supply chain heroes are hidden from public view and work tirelessly behind the scenes, making sure the health supply chain runs smoothly. Patients value the care of extraordinary doctors, nurses and therapists, but rarely are health center information technology (IT) personnel recognized. They are passionate employees who work around the clock with sophisticated new technologies to make sure patients receive their vital and life-saving medications on time.
Maria Shilamba is one of these employees. As the regional IT specialist for the Zambezi region in Namibia, she is responsible for providing IT support for the operating and maintaining the Ministry of Health and Social Services' (MoHSS) pharmaceutical information systems. Her work ensures that the antiretroviral therapy (ART) program has access to reliable data and information that is important in making decisions related to the procurement and management of stocks of ARV medicines.
A Day in the Life of Maria
Maria is only one of 30 IT personnel recruited for this job in one of Namibia's 14 regions. She along with the other IT professionals received extensive training on patient and inventory management tools used at ART sites in Namibia. The USAID Global Health Supply Chain Program-Procurement and Supply Management (GHSC-PSM) project supported this integral training and oriented the new IT staff on the electronic dispensing tool (EDT), the facility electronic stock card (FESC) and the Pharmaceutical Information Dashboard. These electronic tools help increase the visibility of high-quality stock status data that improves pharmaceutical supply chain decision making.
IT in health is often depicted as a secondary sector with more notable attention placed on doctors, nurses and those on the "front-line" of patient treatment. Without support from Maria, these healthcare workers would not be able to complete their day-to-day jobs.
Maria's typical day involves using EDT and FESC to ensure the medicine ordering and dispensing process is as efficient and effective as possible. She proactively monitors and manages pharmaceutical information systems remotely by performing operation system checks, application restorations and updates, anti-virus and anti-malware software fixes and automated backups. Regularly, she conducts site-level maintenance and support of computer hardware and software at 23 of the health facilities in the Zambezi region for timely submission of completed facility ART monthly reports and stock status reports.
The Zambezi Regional Health Directorate is composed of various levels of care, including one hospital, the Katima Mulilo District Hospital, three health centers and 25 primary health care clinics.
The Zambezi region has the highest number of patients on ART in Namibia, with an HIV prevalence rate of 22.3 percent among adults, keeping Maria very busy. She single-handedly oversees all IT support for every individual ART medicine and health product in the health supply chain that services these facilities.
Efficiency is the Name of the Game
IT systems are an essential component of today's modern health supply chain. Without them, essential medicines and healthcare products would not be delivered to patients who need them most. The IT help desk, created with support from GHSC-PSM, is managed by Maria. She also oversees data quality of ART services, which are used at all levels of the decision-making process. These decisions help enhance patient management, improve ART treatment outcomes and save the lives of patients. Many patient and staff testimonials have confirmed improvements in speed and efficiency, reducing waiting time in the queue for medicines from over an hour to just a few minutes.
Thanks to Maria, more Namibians are living healthier and more productive lives.