Featured Media
Image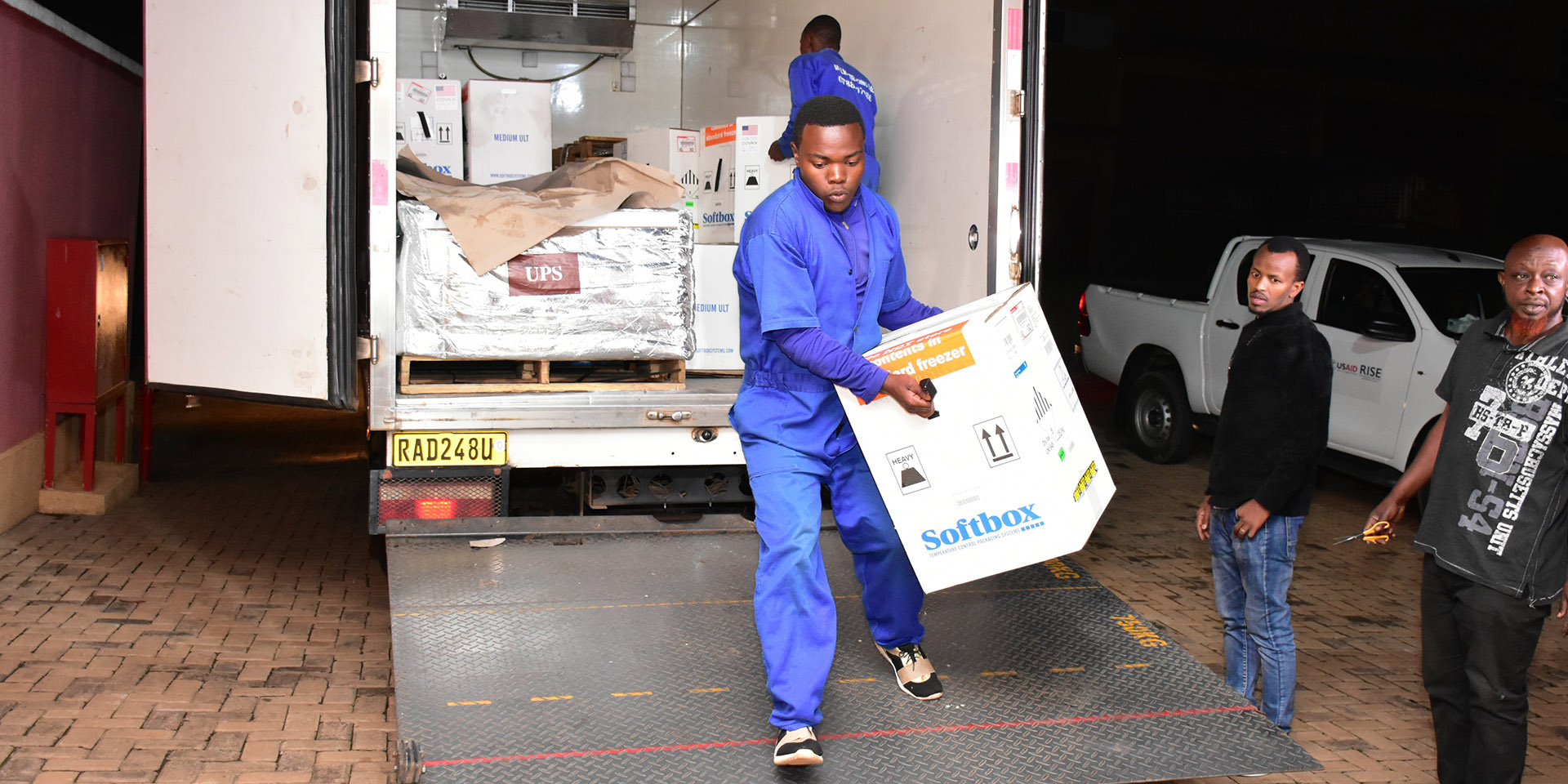 Topics:
Related Supply Chain Topics
Related Global Health Areas
Lead Paragraph/Summary
When Rwanda reported the country's first case of COVID-19 in March 2020, the government responded quickly by closing schools and churches and prohibiting mass gatherings. As cases surged in the ensuing weeks, the government imposed a countrywide lockdown. It urged stringent precautionary measures, including frequent hand washing, avoiding hand shaking, staying home, and avoiding unnecessary travel.
Many sectors faced challenges. Economic growth slowed as a result of restricted movement and trade. The health sector was overwhelmed with sick people, and due to travel restrictions, those suffering from other diseases found it hard to access hospitals.
Rwanda was, "the first in the low-income countries to receive the Pfizer vaccine because of the strong preparedness of this country." - Fode Ndiaye, former United Nations Resident Coordinator in Rwanda
Hope arrived with COVID-19 immunization in early 2021. The Rwandan government began to devise quick and efficient methods of acquiring and distributing vaccines to protect people from illness and reopen their countries. The government committed to vaccinating at least 60 percent of the population in two years.
With so much at stake, all eyes were on the rollout's ability to reach the intended target. Although the Ministry of Health leveraged existing structures for routine immunizations, the scale and speed required additional support.
The USAID Global Health Supply Chain Program-Procurement and Supply Management (GHSC-PSM) project supported the Ministry and its many partners in mobilizing a speedy COVID-19 vaccine response. The project faced a significant challenge from the outset: supporting the receipt and management of millions of COVID-19 vaccine doses requiring cold and ultra-cold chain (UCC) from their journey to the central vaccine warehouse and onward to different vaccination sites across the country, some of them in remote areas.
GHSC-PSM began by reviewing the country's UCC and cold chain supply chain capacity at the central and sub-national levels to determine where COVID-19 vaccines could be stored, how they would be stored, and how they would be distributed. The project hired a support team for inventory management and distribution dispatch at the central warehouse and supervised vaccination at decentralized levels. Two warehouse managers came on board in June 2021.
The project managed the delivery of almost five million COVID-19 vaccines (more than 4.9 million adult doses and 250,000 pediatric doses) and procured more than 1.4 million syringes to close the country's syringe gap. The project worked with the Ministry of Health to rent vehicles to distribute vaccines and meet the demand for vaccination being generated by the government's mass and mobile vaccination campaigns.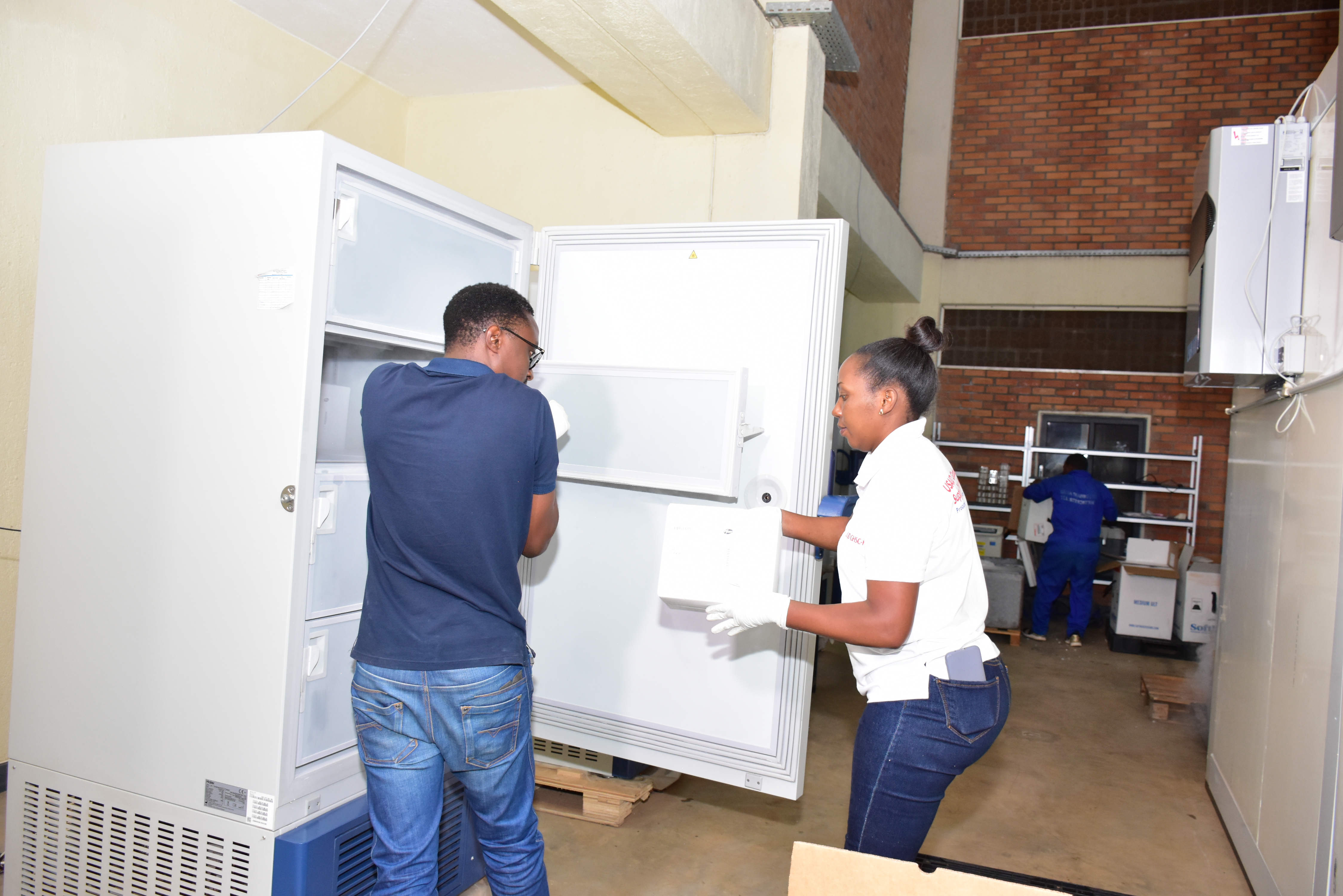 Vaccine storage in specialized freezers in Rwanda. Photo Credit GHSC-PSM

COVID-19 is known to create life-threatening complications in individuals with diabetes. To support the prioritization of this high-risk group in the initial phase of vaccination, GHSC-PSM procured health commodities for diabetes screening, including 642 glucometers, 9.800 glucose test strips, and 490,000 safety lancets. GHSC-PSM also supported the country's health information system to strengthen COVID-19 information management processes and enable data-driven decision-making. To optimize data capture and visibility, the project procured 100 computer tablets for data entry at targeted vaccination sites.
Since Rwanda received the first vaccines in March 2021, vaccination programs have mobilized rapidly. Almost 90 percent of the five million vaccine doses received found their way to clients. By July 2021, more than nine million people – almost 70 percent of Rwanda's population – had received the first dose, and more than 8.8 million (67 percent) had received the second dose. The government had outperformed its original 60 percent, two-year goal in 17 months. In addition, more than 5.1 million (39 percent) received a booster shot.
The Ministry of Health learned many important lessons from the vaccination program. One was the power of accurate, widespread information. During the pandemic, the Rwandan government consistently and effectively informed people about what was happening, so the virus became an important issue for most people. Every resident was challenged to be an actor to contain this disease.
Rwanda's strong leadership, the involvement of all local and international stakeholders, its robust existing decentralized vaccination program, and community engagement also played a key role in vaccinating many of the target population.
Rwanda has installed mobile vaccination sites in public places and crowded spots in Kigali, the capital, and across the country, including markets, malls, and bus stations. Vaccination also takes place in all public health centers and all hospitals.
As of July 2022, the Rwanda Biomedical Center's COVID-19 weekly epidemiological bulletin reported that continuing COVID-19 prevention efforts, together with the shared vaccination efforts, enabled the country to perform an average of 6,563 COVID-19 tests per day, with an incidence rate of one case per 100,000 people each week and a case fatality ratio of just 1.1 percent.