Featured Media
Image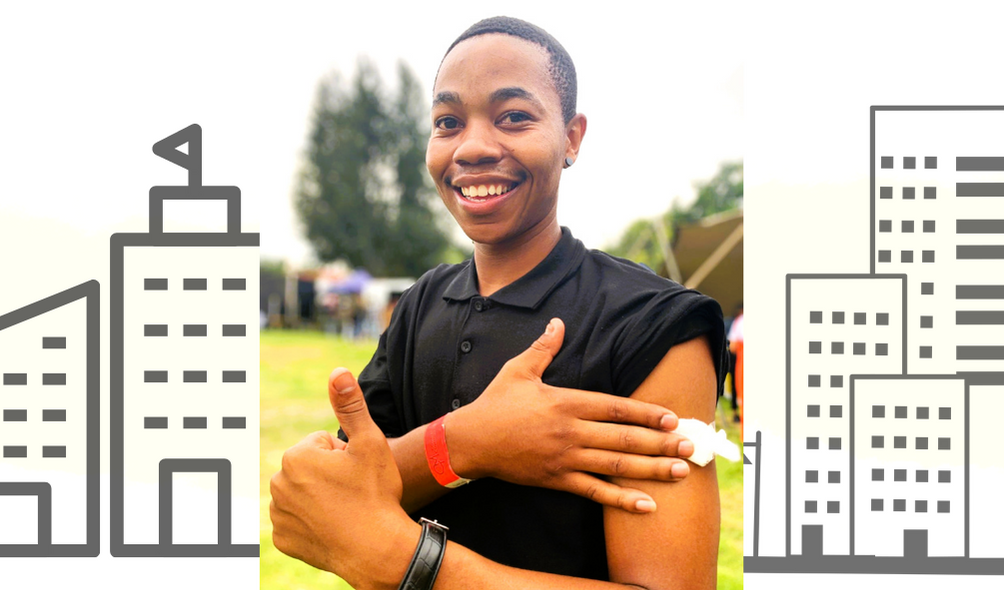 Topics:
Related Supply Chain Topics
Related Global Health Areas
Lead Paragraph/Summary
Across the globe, countries are responding to the COVID-19 pandemic by tasking their national departments of health and other relevant bodies with tracking and controlling its spread. South Africa detected its first case of COVID-19 on March 5, 2020. By December 31, 2021, there were total of 3,475,512 confirmed cases recorded. More recently, the emergence of the Omicron variant has increased the susceptibility of younger people to the disease. Omicron has been the dominant variant in South Africa since November 15, 2021.
With this new variant, an increasing proportion of young people are being diagnosed with COVID-19, with younger people more susceptible to the Omicron variant, than the strains that dominated the earlier half of 2021. Yet many young people are hesitant and may refuse to get vaccinated. People between the ages of 18 and 34 years are the least vaccinated group in the population (refer Figure1).
Nicky Sukazi, 27, initially resisted vaccination. Nicky is a photographer and motion picture designer working in the East Rand township of Buhle Park. The misinformation around the disease and the vaccines led to his apprehension. He felt it was a daunting task to find a vaccination site and going into a typical hospital or clinic didn't appeal to him.
"Based on the negative information spreading on social media platforms, I was scared and could not stop thinking about all the possibilities of dying after getting vaccinated. After speaking to a nurse, she explained to me the situation and answered every question I had, which calmed me." This conversation took place at one of the COVID-19 vaccination sites established at various locations throughout the country.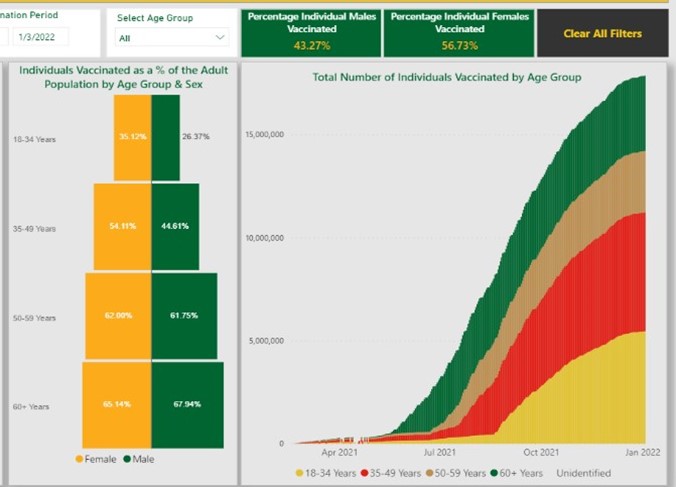 The United States Agency for International Development (USAID)-funded Global Health Supply Chain Program – Technical Assistance (GHSC-TA) is providing comprehensive technical assistance to the National Department of Health (NDoH) and works in collaboration with the provincial departments of health, the private sector, and other stakeholders in the planning and rollout of the COVID-19 vaccination program. Together they work tirelessly to remove barriers to vaccination, especially for young people.
Technical assistance provided by GHSC-TA includes coordinating inbound shipments of vaccines, managing distributors, and outbound logistics from central storage to vaccine distribution or vaccination sites in both the public and the private sector as well as providing expert technical assistance related to vaccine warehousing and distribution. The team created a supply, allocation, and distribution strategy coordinating the supply of 18,781,360 doses of vaccine.
The GHSC-TA team worked with the NDoH to design the site typology to enable provinces and the private sector to set up vaccination services at a wide variety of different venues, including hospitals and clinics, private pharmacies, and well as outreach (pop-up sites). Outreach services are provided in a number of places where community members can quickly access a COVID-19 vaccine while going about their daily business.
GHSC-TA also provided technical support to new and existing vaccine sites reporting on the COVID-19 instance of the Stock Visibility System (SVS). They assisted in the activation of sites on SVS, training on the use of the tool, and analysis of data and interventions to improve data quality.
The intermediate outcome has been a large number of innovative vaccination sites outside medical facilities and a steady supply of vaccines at these sites. Vaccination sites are easily accessible to young people like Nicky, facilitating uptake in vaccine administration and feedback from the targeted population.
Nicky really appreciated the outreach approach and used the opportunity to get vaccinated at a site near to his home. His experience highlighted that well-trained staff following due procedure recorded his personal data and administered a dose of the vaccine. The process was quick, and Nicky would encourage any of his peers to go to the site he did. Nicky will return for his second dose in January 2022.
The work done to support Nicky and his family and peers to get vaccinated is key to improving the vaccination rate and reducing the burden on the health system. Vaccines reduce severe illness, hospitalisation, and death amongst those who contract COVID-19. This will ensure South Africa can focus on the economy, jobs, and livelihoods of all its citizens. GHSC-TA is playing a key role in supporting the NDoH to make sure vaccines are readily available at easily accessible vaccination sites.