Featured Media
Image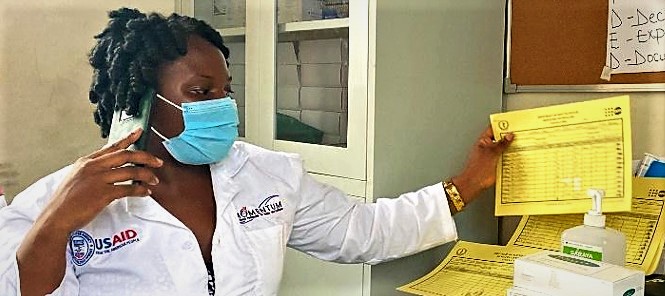 Topics:
Related Supply Chain Topics
Related Global Health Areas
Lead Paragraph/Summary
Since 2017, the USAID Global Health Supply Chain Program-Procurement and Supply Management (GHSC-PSM) project has provided technical assistance to South Sudan to improve the availability and quality of data for family planning and reproductive health (FP/RH) commodities to help ensure contraceptive security.
Minimizing stockouts of medical supplies and contraceptives is important in any country, but especially so in South Sudan, where the contraceptive prevalence rate still stands at only 3.2 percent. Without access to contraception, women have more unplanned pregnancies, leading to higher rates of maternal and infant mortality, and risky abortions.
With a fragile infrastructure, ongoing security challenges, and the COVID-19 pandemic, coordinating a reliable supply of contraceptives in South Sudan requires detailed planning and collaboration among partners. GHSC-PSM works closely with partners such as the USAID MOMENTUM Integrated Health Resilience project to help assure that contraceptives reach the women who need them in the country.
MOMENTUM Integrated Health Resilience is designed to holistically strengthen quality voluntary FP/RH, and maternal, newborn and child health services in fragile settings such as South Sudan. The project's work, coupled with GHSC-PSM's FP/RH supply chain objectives, ensures that commodities reach MOMENTUM-supported service delivery points (SDPs) and ultimately clients. The MOMENTUM and GHSC-PSM partnership is essential to achieving shared FP/RH objectives. As MOMENTUM Integrated Health Resilience staff work directly with patients to engage them in FP options and reproductive health services, GHSC-PSM helps to ensure a variety of contraceptive methods are available at more than 20 MOMENTUM-supported SDPs throughout South Sudan.
One way project partnerships such as this can lead to increased commodity stock visibility is through collaboration on data. An Integrated Call Center developed by GHSC-PSM links GHSC-PSM to MOMENTUM through voice over internet protocol and the local cellular network through a web-based portal. Staff at the Juba-based call center make monthly calls to SDPs to capture national stock supply data.
MOMENTUM Integrated Health Resilience staff provide both qualitative and quantitative information that helps understand how best to shape the FP efforts at the central level and ensure alignment with patient needs. Reporting stock inventory data through the call center ensures stock levels can be tracked and replenished in states and counties where uptake increases.
A lack of commodity visibility limits central-level decision making to ensure women have access to a variety of contraceptive methods at SDPs throughout South Sudan. Through the MOMENTUM Integrated Health Resilience and GHSC-PSM partnership, both projects can gain visibility into stock inventory levels that help to inform routine distribution of basic and supplementary FP kits, in addition to monitoring stockouts and product expiries. It's a synergistic relationship across two USAID projects with shared FP goals.