Sub Title
An Interview With Data Manager Rajaonarivelo Fitiavana Raparijaona
Featured Media
Image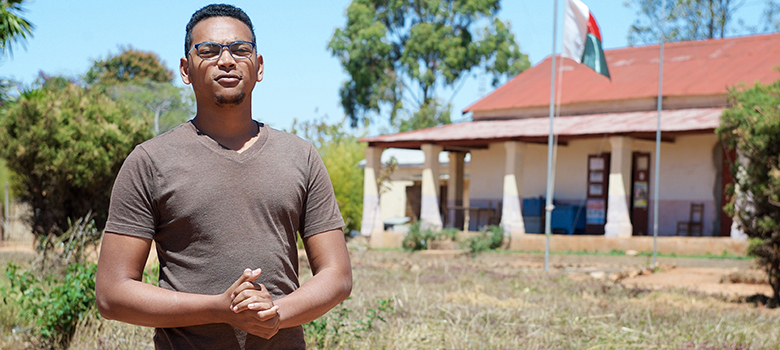 Lead Paragraph/Summary
As a data manager at Madagascar's Directorate of Malaria Control (DLP), Rajaonarivelo Fitiavana Raparijaona contributes to the fight against malaria in a setting that is anything but easy: he is responsible for receiving and analyzing all health commodity logistics data from the district health centers and the district pharmacies throughout Madagascar. Moreover, Raparijaona accomplishes this monumental task with little formal training — there are no supply chain or logistics courses at any universities in Madagascar.
Last September, GHSC-PSM — supported by USAID and the President's Malaria Initiative — conducted several training workshops on commodity quantification in Madagascar. We sat down with Raparijaona during one of these trainings to learn more about his work and his experience at the training.
All of Raparijaona's responses have been translated from the original Malagasy.
GHSC-PSM: How long have you worked at the DLP?
Raparijaona: I joined the Directorate of Malaria Control as an intern just after finishing my degree in computer science. Right after my internship, the head of the department informed me that a data manager position had just opened up and encouraged me to apply. Being passionate about data management, I didn't hesitate to submit an application. After the hiring process, I was selected for the post.
GHSC-PSM: As a data analyst, can you tell us more about your work?
Raparijaona: I am responsible for receiving all stock level and logistics data from the health centers and district pharmacies throughout the island. After analyzing this data, it's my job to trigger the actions that need to be carried out, which might mean placing an emergency order, calling for redeployment, etc.
GHSC-PSM: What has your experience with GHSC-PSM been like?
Raparijaona: I came to know GHSC-PSM during a couple of training workshops on quantification for family planning and maternal and child health products. During these two trainings, I learned a lot about the supply chain in general and, specifically, about quantification.
In Madagascar, there are not yet any training courses dedicated to supply chains for health commodities, so these workshops were a great opportunity for me to learn and deepen my knowledge on the subject. The workshops inspired me and made me realize that my work was contributing to a greater mission and a noble cause — saving lives.
GHSC-PSM: Recently, you attended a joint mission with both the DLP and GHSC-PSM to train stock managers about commodity forecasting. What was that like?
Raparijaona: That trip was my first field visit. And it was very important to me because it's impossible to understand the challenges, facts and realities on the ground while just staying in my office. Every day, I receive a lot of information from health centers and districts, but, previously, I never had the chance to check if the data was accurate and actually reflecting the real situations on the ground. The field visit also provided me the opportunity to interact directly with stock managers and assist them in forecasting their needs — an essential exercise, especially when we are preparing to face high malaria transmission season.