Body
In Eswatini, GHSC-PSM has provided supportive supervision since 2019. The approach combines regular performance assessment, hands-on supportive supervision visits (SSV) and training with performance recognition. A core team of four regional pharmacists, four project logistics staff, two regional laboratory focal persons and a supply chain focal person from each clinical implementing partner operates the program. Before the emergence of COVID-19, the team conducted quarterly in-person supportive visits to 133 high-volume facilities in this relatively small country bordered by Mozambique and South Africa.
To help reduce the spread of COVID-19, the SSV program adopted a virtual approach, contacting health facilities by phone, mentoring them on identified areas of sub-optimal performance, and collecting supply chain performance data. Using data from the Commodity Tracking System (CTS), the team has monitored and mentored facilities with ongoing reporting problems. In addition, the team has used facility stock status reports in CTS that show stock levels of tracer commodities to mobilize stock re-distribution to avert supply risks. Using previous support supervision performance data, the team prioritized facilities whose performance was lower than targets on agreed indicators, such as accurately filling in stock cards and adhering to ordering schedules.
From January to March, 2021, the program targeted 34 facilities for mentoring through virtual supportive supervision. From April to June, 2021, the program selected 13 facilities for in-person visits. The table below summarizes the performance on selected supply chain indicators of the 13 facilities that received in-person SSV.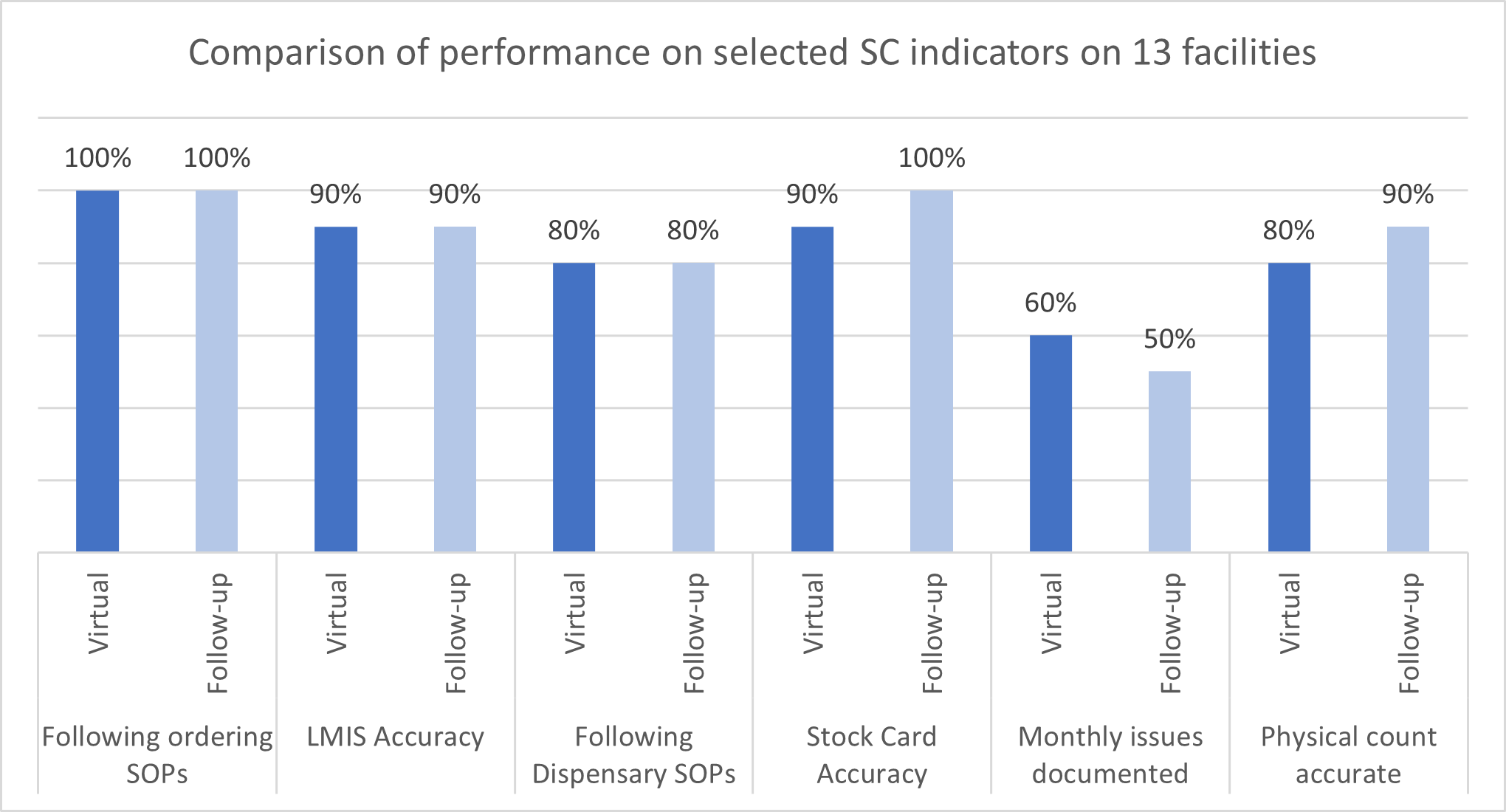 The performance for two key measures improved, and most performance levels remained above the target of 80 percent. The recording of stock card monthly issues was the only area the team identified for immediate ongoing mentorship.
Despite the changes to supportive supervision necessitated by COVID-19, consumption data reporting rates for anti-retroviral medicines improved from 77.8 percent in October 2019 to 100 percent in June 2021 in 48 sites that report to the tracking system. Stock out rates of HIV/AIDS tracer commodities at facilities fell markedly from 4.7 percent in 2019 to 0.4 percent in 2021. Sustained stock availability at facilities gave a firm foundation for multi-month dispensing (MMD) and decentralized drug distribution, thereby reducing the frequency of visits to health facilities. Fewer visits resulted in decongested facilities, increased convenience to clients, and reduced risk of COVID-19 transmission for clients and healthcare workers.
Given the success of the initiative, the team will now combine in-person and virtual supportive supervision and mentorship. To maximize coverage, virtual mentorship will mostly target facilities with sustained acceptable performance.