Featured Media
Image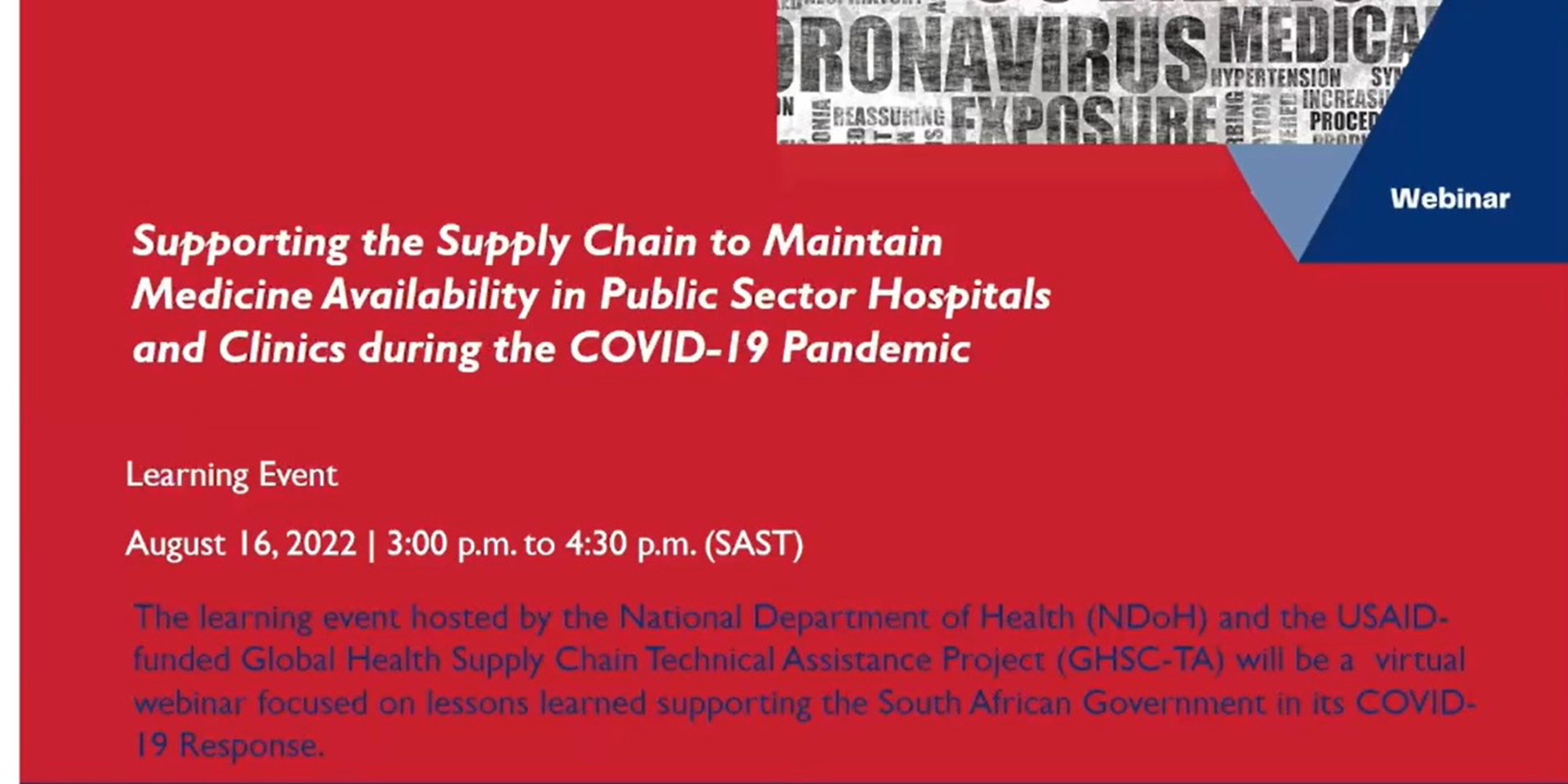 Topics:
Related Supply Chain Topics
Related Global Health Areas
Lead Paragraph/Summary
On August 16, 2022, the United States Agency for International Development (USAID)-funded Global Health Supply Chain Technical Assistance (GHSC-TA) Program in South Africa and the National Department of Health (NDoH) hosted a webinar titled "Supporting the Supply Chain to Maintain Medicine Availability in Public Sector Hospitals and Clinics during the COVID-19 Pandemic." The webinar focused on lessons learned in supporting the South African Government in its response to COVID-19. Rob Botha, Chief of Party at GHSC-TA, led a panel discussion with Ms. Khadija Jamaloodien, Director for Affordable Medicines at NDoH and senior technical experts who were involved with the country's early COVID-19 response and medicine availability monitoring.
The interactive session illustrated the initial challenges that the South African Government faced in its preparedness for pandemics and highlighted lessons learned. The technical experts—including representatives from GHSC-TA and the Modelling and Simulation Hub, Africa (MASHA)—summarized the shifting priorities and existing technologies that enabled swift action and systems strengthening to ensure vital medication availability. Two strengths highlighted in the Government's response were the power of private sector collaboration and medicine supply and demand forecasting. The National Surveillance Centre aided the use of electronic modelling to inform demand, procure medicines, and manage contracts. The webinar demonstrated unique solutions that can be applied to future preparedness scenarios to meet patients' needs.