Sub Title
Identifying opportunities for increasing domestic wholesaler contributions to improve availability of quality family planning and maternal, newborn, and child health commodities in Low- and Middle-Income Countries.
Image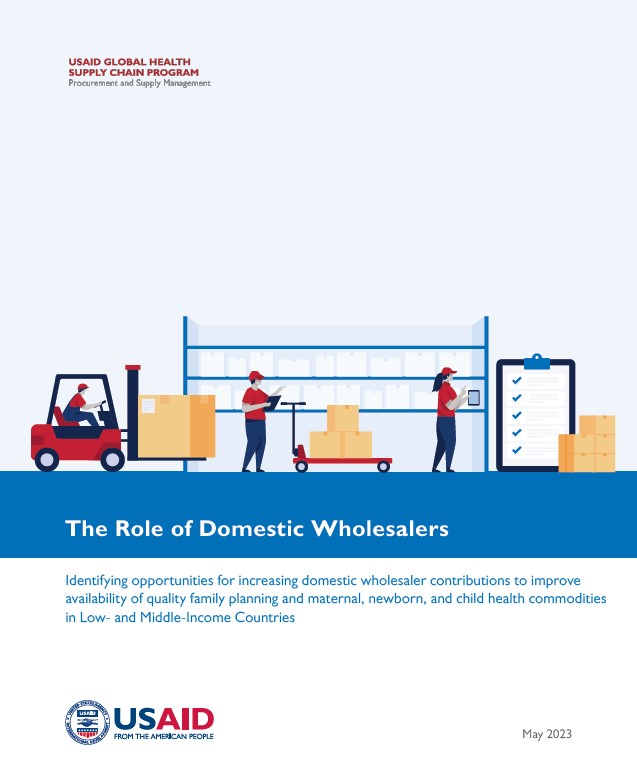 Description
In the past few decades, impressive progress has been made to increase the availability of important family planning (FP) and maternal, newborn, and child health (MNCH) commodities. Yet, 218 million women in low- and middle-income countries still have an unmet need for family planning. Every year, more than six million women and children die from preventable illnesses in part from the lack of available commodities. Many factors contribute to ensuring access to and availability of quality, affordable health commodities at service delivery points, including reliable and efficient health supply chains to facilitate the movement of products between manufacturers and consumers. In many countries, domestic wholesalers are the crucial intermediaries in public, private not-for-profit, and private for-profit (commercial) health supply chains, responsible for multiple supply chain tasks, including procurement, importation, and warehousing and distribution.

This brief aims to:
• Describe how domestic wholesalers operate in public, private not-for-profit, and private for-profit sector markets and their added value to each.
• Discuss wholesaler quality determinants and challenges.
• Examine specific barriers faced and opportunities for strengthening the ability of domestic wholesalers to provide quality-assured health commodities.